AEROGOLF SHERATON HOTEL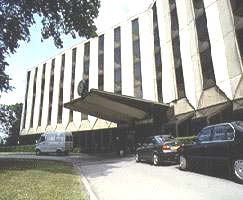 Описание
The Sheraton Aerogolf Hotel is a modern hotel situated in its own park. Luxembourgs International Airport is adjacent to the hotel grounds, a 5 minute walk away and one of Europe's finest 18 hole golf courses is just across the road. The hotel has two restaurants, six function rooms, a piano bar and a terrace. The city centre and central railway station are a 10 minute drive from the hotel and the motorway provides a 3 km connection to the European Community Centre.

Address : B P 1973, Luxembourg.

Fax for reservation & information :
(in USA) +1-801-315-7442.